HEMP / CANNABIS FARM SECURITY FENCING
Hemp and Cannabis farms are becoming an increasingly important part of the Australian economy.
Cannabis farms are riding a growing high thanks to recent changes in legislation and the debate around the benefits of medicinal cannabis.
For many patients medicinal grade cannabis oil promises levels of pain relief and therapeutic benefits that conventional medicines lack.
Unfortunately, along with success comes unwanted attention from criminals. Increasingly, thieves and drug dealers, who are presumably looking to get a different kind of high, have targeted commercial cannabis farms.
If you run a cannabis farm you need to think about security.
In fact, it's a legal requirement for obtaining a licence to cultivate medicinal cannabis. You need to have strict security protocols in place for , growing, handling and storing medicinal cannabis; it's part of satisfying the fit and proper person test.
And security starts with fencing that stops people gaining unauthorised access to your crops and property. Cannabis farm security is not just about protecting your valuable assets. You need to protect visitors from accidental exposure to dangerous poisons and other hazards too.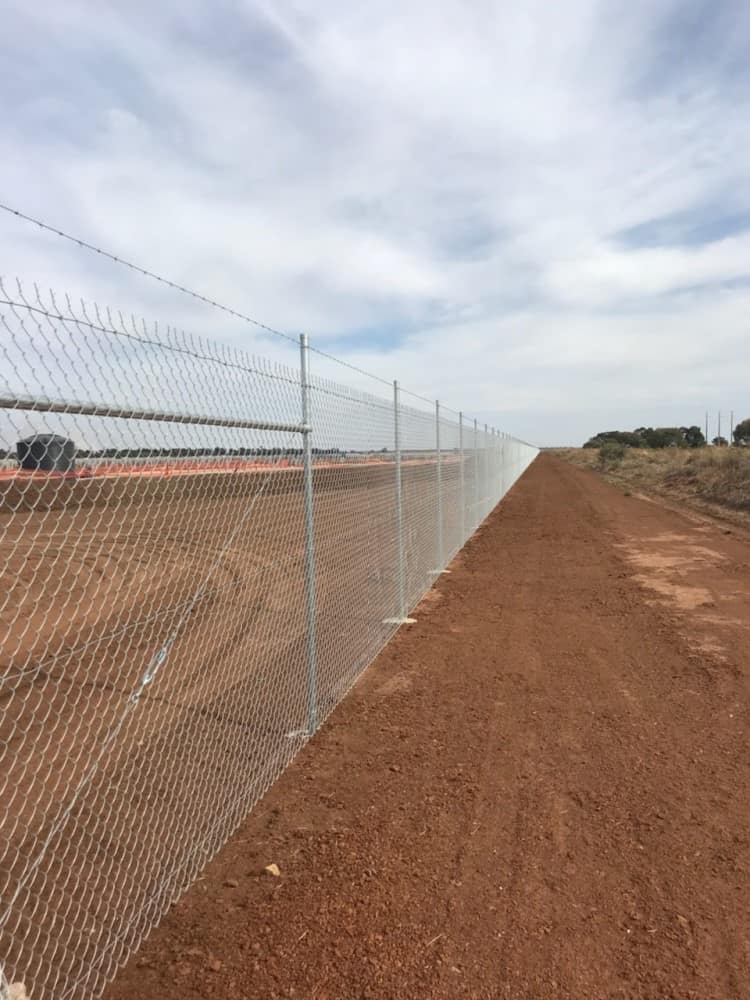 Superior Security for Cannabis Farm Fencing
Cannabis crops are high value crops and are highly attractive to any criminal. And part of the attraction for thieves targeting cannabis farms is that the remote rural locations and lack of traffic can make covert activities seem relatively anonymous.
When you add in the often slow police response times it's hardly surprising that opportunists will take advantage of any lapse in your security.
That's why you need to have a well designed high-level security fence for your cannabis farm. Effective cannabis farm fence design will achieve the following:
Stop unauthorised entry either over or under the fence, or by cutting or ramming the fence
Prevent unauthorised vehicle movements
Protect visitors from accidental exposure to farm hazards
Prevent native wildlife and wandering stock from damaging crops, infrastructure or harming themselves
Offer lost-cost rapid installation combined with exceptional longevity
Profence provides exceptional security fence design and fence supplies throughout Queensland, New South Wales, Victoria, ACT and South Australia.
When you're looking to innovate with exciting new crops you need a security fencing supplier who can keep pace.
Profence: we supply only the highest quality products, fence design advice, sales and service.
Effective cannabis farm security fence design typically starts with 1800 mm or 2100 mm cranked posts with the addition of  3 or 4 rows of barbed wire. Chainwire mesh at 50×2.5mm or 3.15mm offers good security against climbing whilst still maintaining visibility for CCTV systems.
Protective Fencing offer wire products across a wide range of aperture sizes, wire thicknesses, and coatings. All our products are protected by hot dip galvanising that meets the appropriate Australian standards.
We can also offer powder coated colour options for all steel components. Powder coatings meet the AS/NZS 4506-2005 Metal Finishing – Thermoset Powder Coatings standard.
We're in the business of supporting Australian growth and businesses such as yours. That's why we supply steel products proudly made from Australian steel.
Additional Security for Cannabis Farms
CCTV cameras and motion detection technology are mandatory requirements for cannabis farms.
Profence security fence products enable you to add additional security extensions such as razor wire, barbed wire, and spikes, electric wires, security lighting, vibration sensors, and CCTV to your cannabis farm fence.
Protective Fencing for Cannabis Fencing supplies
Profence has built an enviable reputation as one of Australia's leading suppliers of superior quality high-level security fencing. The Profence name proudly protects some of Australia's largest transit, industrial, and agricultural projects.
Profence is currently keeping major infrastructure assets safe such as airports, railway corridors, power stations, solar farms, and cannabis farms. This type of security fence design requires superior levels of expertise and experience, the kind of knowledge that Profence has built up over many years of successful fence construction.
We know the value of long-lasting quality products. That's why all our products are supported by a 20 year warranty.
When you're leading the way with a pioneering new crop you need a fencing company that will protect your assets. Profence is proud of its ability to support Australian innovation and you'll rest easy knowing your valuable crops are safe and secure.
Come and see the Profence farm fencing experts in Sydney, Brisbane or Melbourne for security options that are the pick of the crop.