Ideally all buildings should be designed with people in mind; safety, functionality, and user friendliness should be key guiding principles.  And those ideals extend to the construction of safety fencing.
Obviously, the role of safety fencing is to protect the safety of the people who work, visit or live in a building. But designing safety fencing for a vital institution such as a hospital poses a special set of challenges including the need to:
Prevent unauthorised entry and at the same time prevent others from leaving or harming themselves
Keep staff and visitors safe without creating a harsh institutional appearance
Be secure, tough and durable yet remain attractive and unobtrusive
SAFETY FENCING DESIGN
Providing truly effective solutions for the most challenging safety fence design projects is a keystone of the Protective Fencing mission.
Our history of successful major safety fencing projects throughout Australia demonstrates just how well we succeed in meeting those challenges.
Mater Hospital – The Brief
Providing secure safety barriers for the emergency department and mental health unit at the Mater Hospital, Newcastle presented some complex design challenges.
The brief included the following requirements:
Fence line height had to remain a consistent height of 2.7 metres.
The fence should prevent climbing by eliminating all, foot, toe or finger holds.
The fence must meet a complex set of mechanical and structural strength requirements including wind loading and weight bearing standards.
The ability to see through the fence was crucial both for security reasons and for aesthetic and scenic values
Enhanced viewability with Profence Safety Fencing 
A well-designed safety fence needs to eliminate climbing holds whilst retaining the ability to see through the fence.
This fence viewability enhances security whilst allowing visitors and staff to enjoy the expansive view beyond the fence line and not feel so hemmed in.
Akward curves and corners
The pre-existing nature of the buildings infrastructure required Protective Fencing to work closely with the client and installer to develop design solutions. Innovative engineering was required to ensure the awkward corners and curves were addressed and the final fence height was consistently maintained.
The Protective Fencing design fulfilled all of the client's requirements with a strong and elegant solution that perfectly balanced all of the client's requirements.
Overcoming Barriers to Fence Design
Protective Fencing designed the perfect solution for the Mater Hospital safety fence with the use of the Promax 358 mesh panels and posts system.
Promax 358 mesh with its small aperture size (13mm x 75 mm) eliminates the ability to find a toe or finger hold and prevents climbing yet still allows a clear view through the fence. Promax 358 mesh also allows for a wide range of innovative and creative engineering possibilities.
Prevent climbing by eliminating all, foot, toe or finger holds
The flexible design approach allowed panels run up and down slopes at varing angles and was a natural and effective response to the awkward corners and variable heights caused by existing infrastructure.
Balancing the requirements for superior strength and weight bearing capabilities also called for some creative thinking. It was important that the fence could withstand wind loads as well as the weight of people attempting to climb over the fence.
The tapered fence post design enhances the fence's light and delicate appearance, yet they retain superior strength.
The top railing has been eliminated to improve the appearance and make the fence look less obvious. A fold in the top of the mesh panels provides additional strength and compensates for the removal of the top rail.
Improved appearance by eliminating top railing
The dark colour finish allows the mesh to successfully blend in to its surroundings making the secure areas feel and look very user friendly without restricting viewability.
Carparks and vehicle access points are increasingly identified as potential danger zones and need to be included in any safety fence design project – see Carpark Safety Barrier Case Study
The tapered posts and Promax 358 mesh ensure a superior level of safety around the Mater Hospital vehicle ramps and carparks and does it in a very attractive way.
Tapered Posts – Exceptional strength, enhanced visual appeal
Safety Fencing – Other Structural Design Challenges
Designing safety fencing as part of a new purpose built facility is often much more straightforward than constructing a fence to fill in the gaps at a pre-existing building or where the function of a building has changed.
The Mater Hospital brief required a consistent 2.7m fence height throughout and the variable heights of ramps and pre-existing walls required some innovative thinking.
We used specially curved panels to accommodate  variable radius corners and maintain a consistent height in awkward places.
We eliminated footholds where the fence met existing concrete footers and walls by introducing a 150mm overlap between the mesh and the concrete.
We had access only to one side of the fence line so the use of scaffolding was restricted.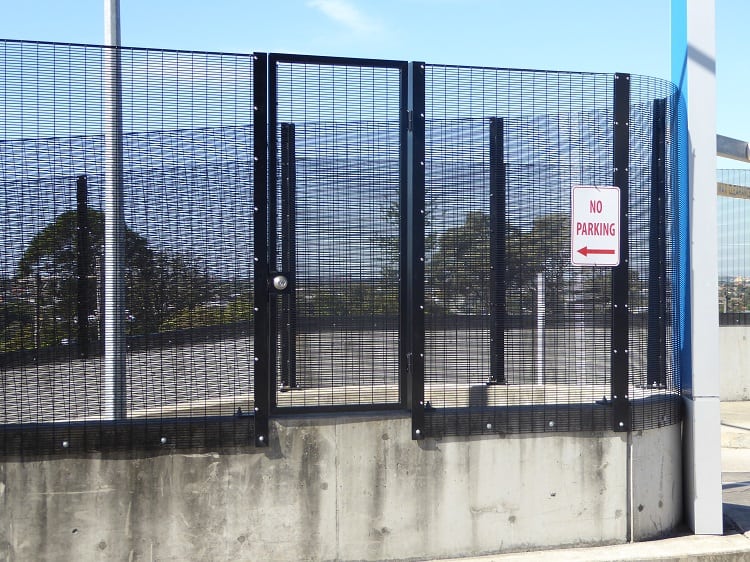 Metal cover plate matched the 150 mesh overlap
This placed additional challenges in erecting the fence. Mesh was sandwiched between a cover plate that was fixed through to the post with factory installed stainless steel nut inserts.
This method of fixing provides an elegant clean surface that further eliminates the possibility of gaining foot or toe holds.
The cover plate matched the 150 mesh overlap and when bolted to the existing concrete side wall boosted the post strength.
Promax 358 mesh has proven itself as the industry standard for medium to high security and safety fencing projects such as Mater Hospital.
Other invaluable features of Promax 358 mesh and post systems include:
Zalcote superior galvanizing for up to 70% longer rust protection
Promax post system for exceptional strength, enhanced visual appeal, and simple fast installation combined with increased resistance to toppling or ramming
Engineered and certified for high level security fences up to 4.8m in height
Built to withstand category 2 cyclones
Additional security features such as razor wire, electric wires, security lighting, vibration sensors, and CCTV can be easily incorporated
Protective fencing has just completed a similar fencing project at the Royal North Shore hospital in Sydney.